Welcome to Lemon Cove Community Church!
We're glad that you're here!, Lemon Cove Community Church is a place that doesn't belong to a pastor, a congregation or a community, but to the God of all. In His name, you are invited to become part of the covenant people of God in Lemon Cove!
OUR VISION
"Lemon Cove Community Church will be a welcoming family of imperfect people who find wholeness through Jesus Christ"
OUR MISSION
"The four pillars of our mission are to Worship God, Reveal God's love, Serve Our Neighbors, Invite everyone"
"Click here to learn more about the mission goals we strive toward in fulfilling our vision"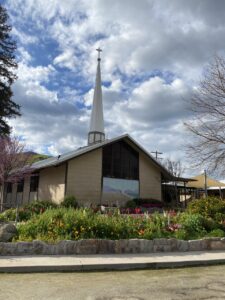 Thank you for your support!
Thanks to your contributions the new white metal roof and steeple have been restored on the sanctuary as well as the roof on the social hall, classroom wing, and office. A special thank you to the Steeple Peeple (volunteers) who worked hard to make repairs to the steeple and cupola. Continued donations are still appreciated to help offset the financing of this large project. If you would like to make a donation, you can donate online by going to our church website, click on the following link to go to Tithes and Offerings tab and select "Facilities Fund" from the drop down box, or contact our church office at: office@lemoncovechurch.com or call us at 559.597.2249.

Psalm 121:
"I lift up my eyes to the mountains— where does my help come from? My help comes from the Lord, the Maker of heaven and earth. He will not let your foot slip— he who watches over you will not slumber; indeed, he who watches over Israel will neither slumber nor sleep. The Lord watches over you— the Lord is your shade at your right hand; the sun will not harm you by day, nor the moon by night. The Lord will keep you from all harm— he will watch over your life; the Lord will watch over your coming and going both now and forevermore."