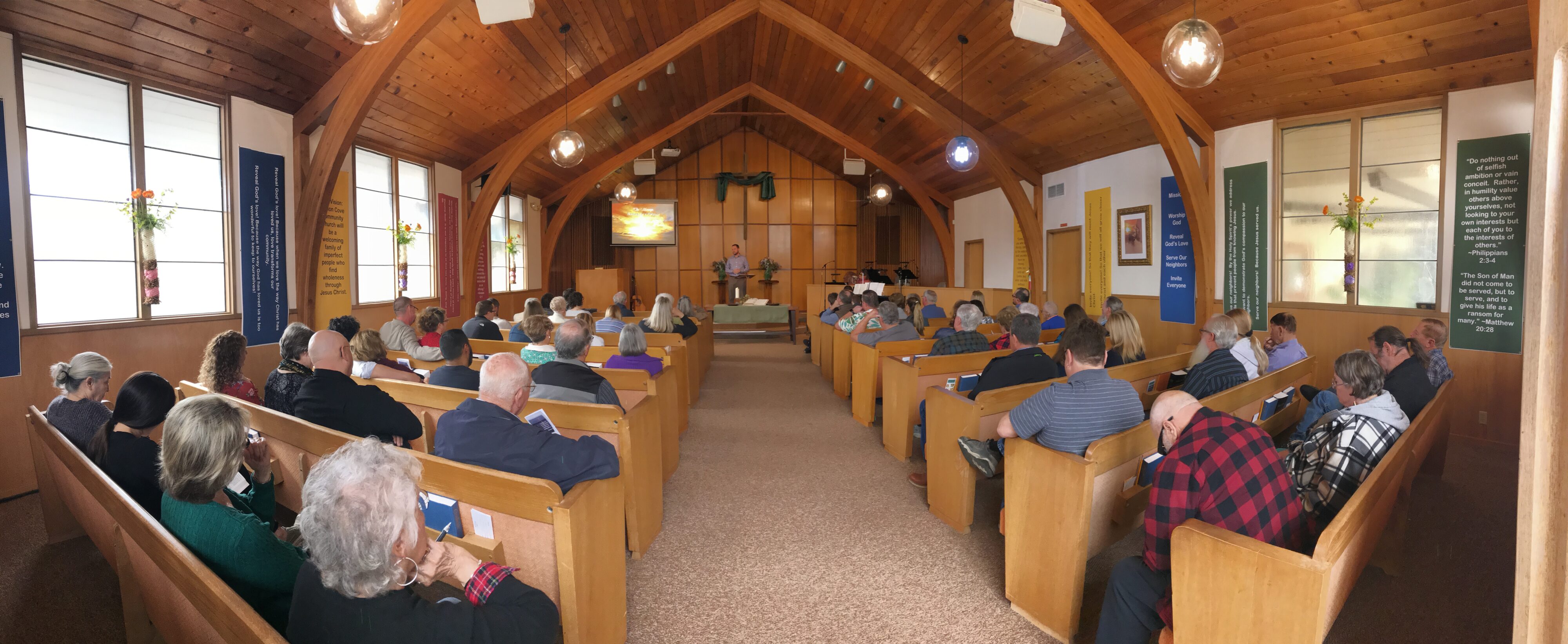 Hello church!
The state of California has reinstituted a requirement that masks be worn indoors in an effort to slow the spread of Covid. As the state of California has no enforcement mechanism for this requirement, neither will the church enforce this requirement in our sanctuary. However, the Social hall continues to be designated a socially distanced room, meaning that if you participate in worship in the Social hall you are required to wear a mask out of consideration for your fellow worshipers.
As always, please keep the following in mind:
1) If you have reason to believe that you are sick in any way, please stay at home and join us for worship online through our livestream or YouTube recording! You can find both resources here.
2) All people are equally welcomed to our church, masked or unmasked – it can be painful to disagree, but we will do so respectfully and with love and concern for each other. We are family in Jesus!
3) Please be thoughtful in your conversations – no topic is out of bounds in our church, but talking loudly about how brilliant you are because you are/aren't vaccinated, are/aren't wearing a mask, are/aren't a Seahawks fan may not be the best way of loving your neighbor well. It's even worse if you start talking loudly about how dumb people are because they are/aren't vaccinated, etc. Please consider this a reminder rather than correction or rebuke!
4) I'm proud of how we've handled the pandemic together – not because we all have agreed on everything, but because we've have shown our willingness to love each other even when we don't agree. Let's keep doing that!
Please contact the church office if you have any questions. I'm looking forward to seeing you all on Sunday!
Pastor Ian Hodge
Read more...
---
Hello church! Hope you are all keeping as cool as possible as the temperatures get truly crazy this week!
Last Sunday after worship, the Session met and worked on updating our social distancing practices at the church. We are very excited to announce the following changes:
1) Masks are not required anywhere on church grounds at any time. This means it is entirely your choice if you would like to leave your mask at home on Sundays, or if you would like to continue wearing it!
2) We will no longer practice social distancing in the sanctuary, or anywhere else on church grounds with one exception (see below). You may enter or exit through any door, you may sit anywhere in the sanctuary you like, and so on.
3) Social distancing will still be practiced in the Social Hall, although masks will not be required. The purpose of this is to provide a place for anyone who isn't quite ready yet to go back to normal.
4) Beginning this Sunday the offering plates will be passed as was traditional before the pandemic, and beginning July 4 communion will once again be passed to the congregation rather than the communion cups (communion cups will be used in the social hall). The apparent medical consensus is that the likelihood of transmitting covid through surface contact is vanishingly small.
5) If a person attends church while sick with covid (presumably unknowingly at the time) appropriate precautions will be determined and undertaken.
6) Please continue to extend kindness and understanding to each other – some people will immediately feel comfortable in our return to normal, but some may need some time to get used to it. Encourage each other, comfort each other, and thoughtfully make space for your neighbor if they need it.
In summary: All precautions put into place to prevent the spread of Covid are now over, with the exception of social distancing in the Social Hall.
I can't wait to see your faces this Sunday! Please let me know if you have any questions or concerns!
Pastor Ian Hodge
Read more...
---